Lithe Audio WiFi All-in-one IP44 Multi-room Bathroom Ceiling Speaker (SINGLE - Master)
Description
Our All-in-one IP44 Wireless Multi-Room WiFi Ceiling Speakers combine an Amplifier, WiFi Receiver, and a High-Quality Speaker to offer you the ideal All-in-one Solution for your bathroom. Multi-Room stream to up to 30 master speakers using the Lithe Audio app (available on iOS and Android). Access your Spotify library, stream from Tidal, Deezer, TuneIn or vTuner all within the app for multi-room audio.
Our All-in-one IP44 Wireless Multi-Room WiFi Ceiling Speakers allow you to stream audio from any app
to any master speaker - offering you complete flexibility.
Multi-room audio made easy...

Power it. Sync it. Play it.
Fill your home with sound using our All-in-one Wireless Wi-Fi Ceiling Speaker. Designed to enable high quality audio streaming from Airplay, DLNA and UPnP, this ceiling speaker combines amplifier, Wi-Fi and audio in a single, compact and easy to install unit. Just power up, link to your device, and feel the satisfaction of a cable free listening experience.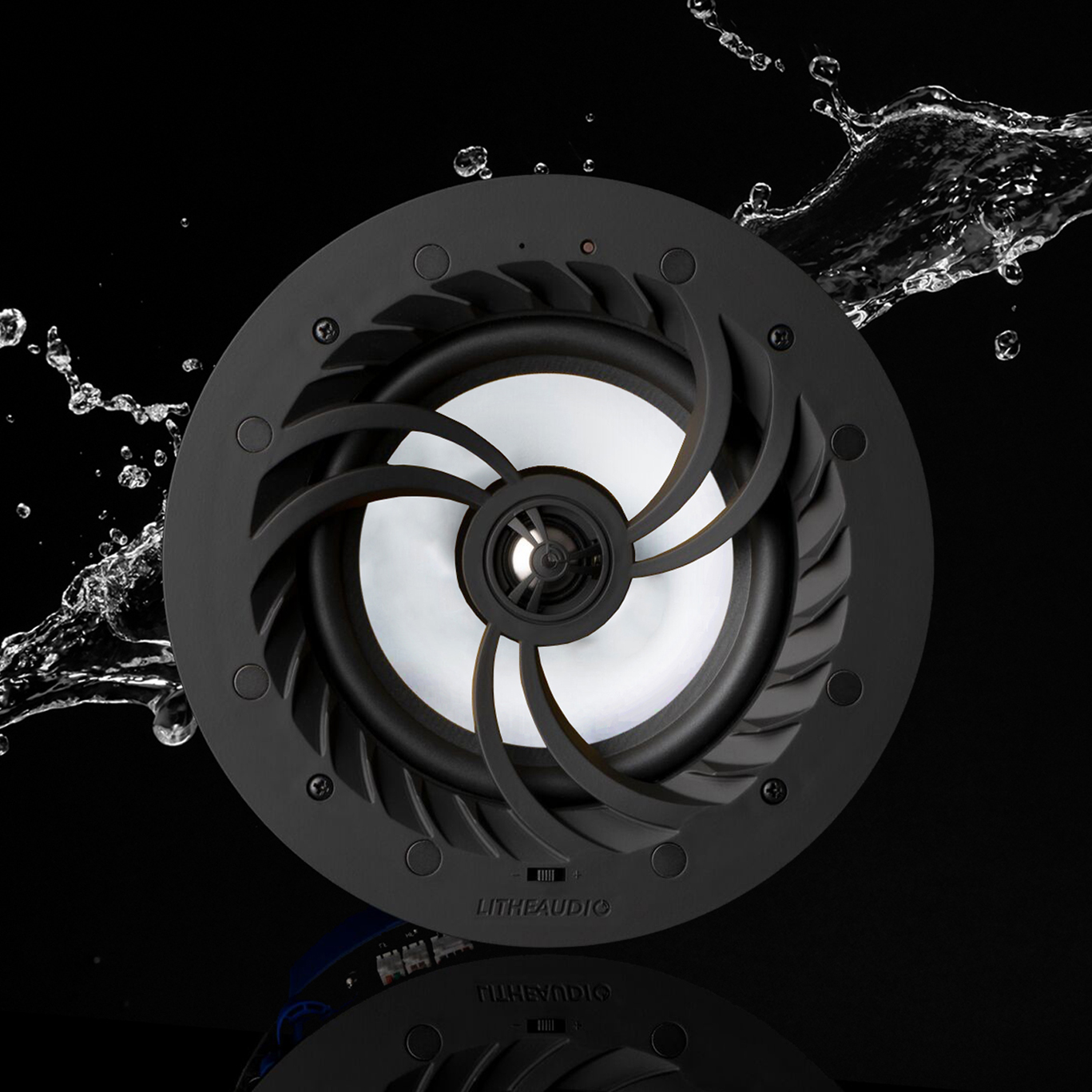 All-in-one solution
Amplifier & Wi-Fi all built in, just add power and you're good to go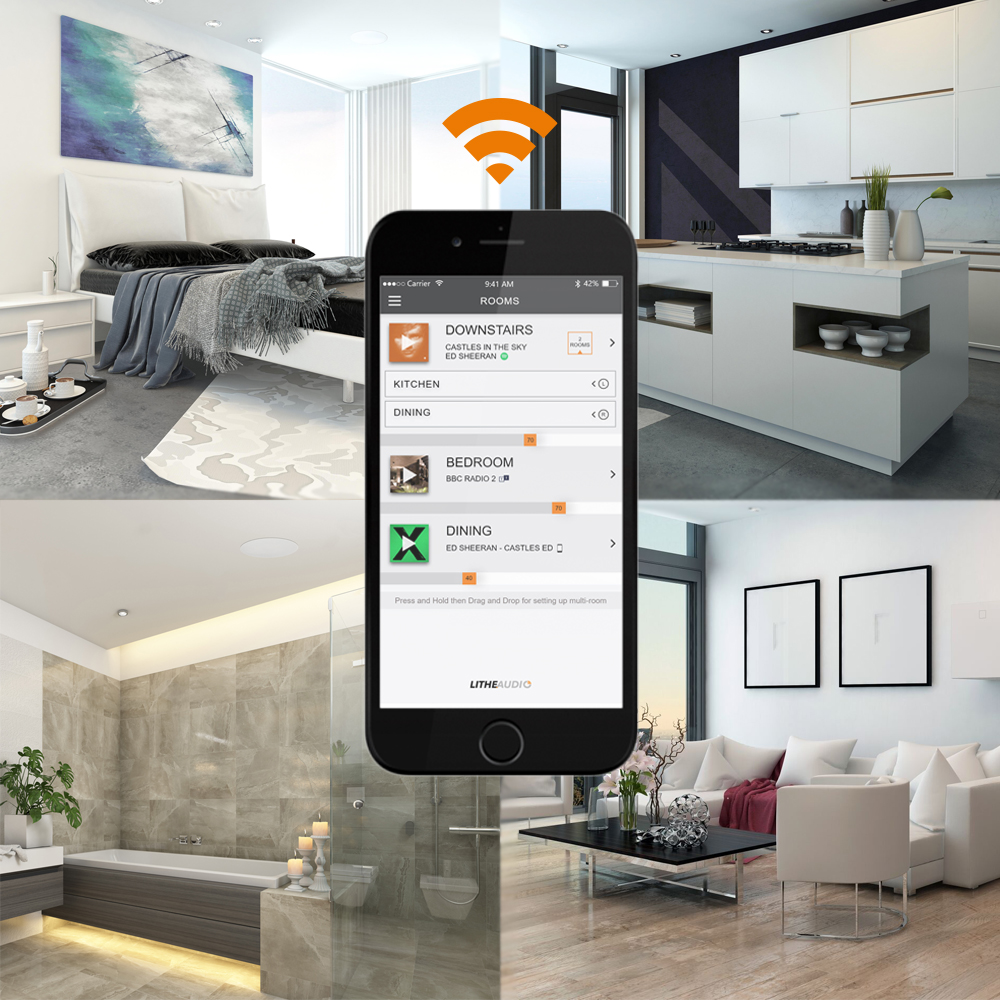 Multi-room audio
Seamlessly stream high quality audio from a single, a selection or up to 30 speakers at once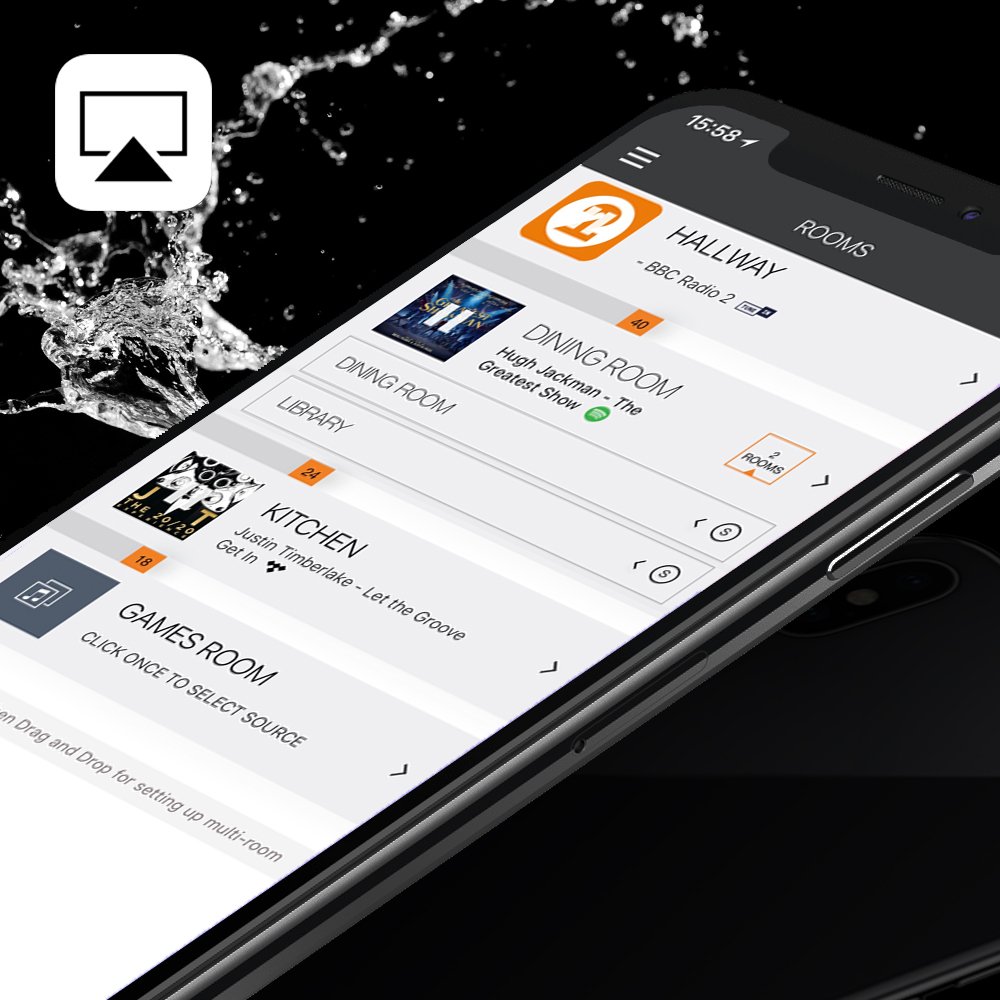 Built in AirPlay
Fully Apple certified, stream any audio source directly to the speaker

STREAM AUDIO FROM ANY APP


Stream wirelessly to multiple rooms at once from Spotify, Tidal, Deezer, TuneIn or vTuner
straight from within the Lithe Audio app.
More of an Apple Music user? No problem!
You can stream audio directly to any singular Master speaker (or Pair) using any app.
If you can play it on your device, then you can play it on our speakers.
Have access to a NAS drive library? Good news!
You can stream straight from the library on your network using the app.
the technical bit
Simple to install diagram via plug socket or via lighting circuit. Showing connections to Alexa or Google home via RCA to play TVs, cd player etc...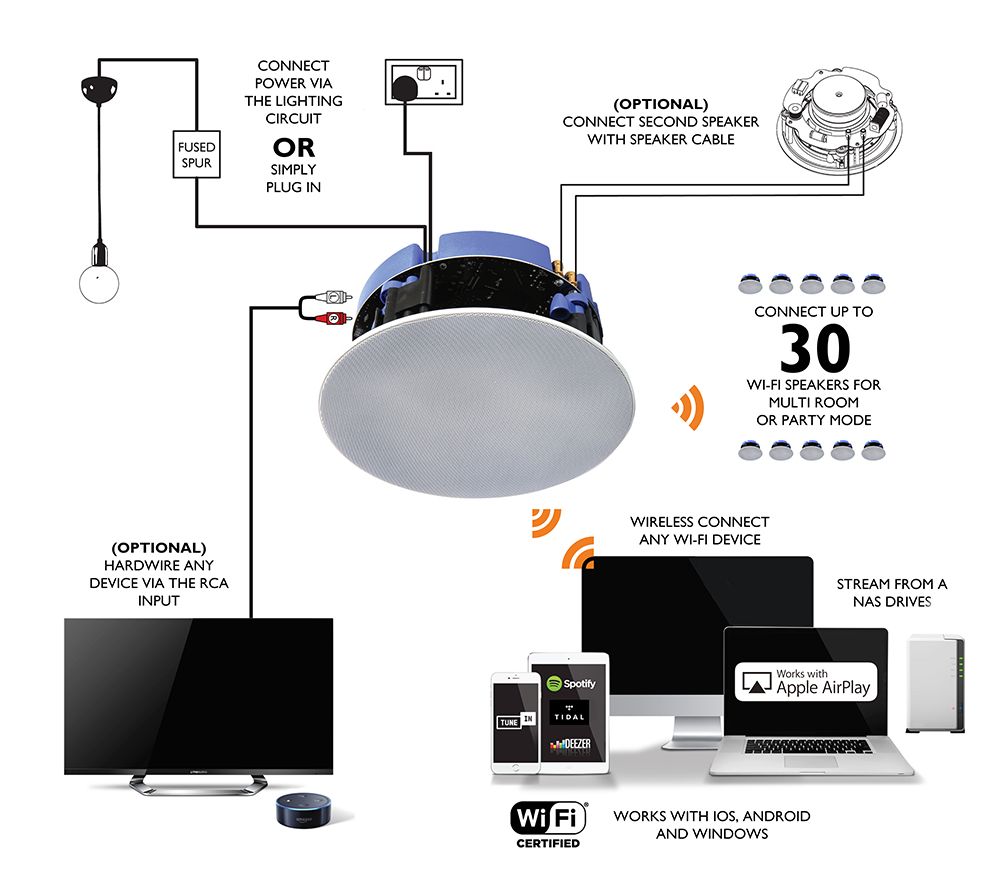 Features
IP44 rated Bluetooth 5 Ceiling Speaker
Multi-room Ceiling Speaker
All-in-one solution - Amplifier and Wi-Fi all built in, just add power.
Easily connect to plug socket or existing lighting circuit
Built in AirPlay and DLNA
Connect up to 30 master speakers (30 zones)
App control via IOS or Android, full control with easy drag and drop zoning
Connectivity
App control via IOS or Android, full control with easy drag and drop zoning
Access digital music storage using NAS drive (Networked Hard Drive).
Connect to existing WiFi 2.4Ghz
Apple Airplay certified
DLNA/uPnP connections
Line in (RCA input)
WiFi Certified 2.4Ghz (802.11b/g/n)
Audio spec
Woofer: 6.5" PP White Cone
Tweeter: 0.75" Titanium Cone
Mono/Stereo Switch
RMS Power: 60W RMS
Impedance: 8 Ohms
Sound Quality THD+N 0.009%, 65Hz-20kHZ
Sensitivity (1W/1m): 90dB
Audio Sample Rate: 8Khz
Digital Class D Amplifier
Multi room Audio
Connect up to 30 master speakers (30 zones)
Spotify Connect directly to speakers
Play Spotify, Deezer, Tidal, Tune in and V tuner
Play music to a group or individual rooms
Speaker spec
210mm cut-out diameter
Weight: 3.7kg
Power Supply: DC24V / 2.5A
Dimensions: (W x D) 230 x 95 mm
Operating Temperature: 0º to 40º C
Storage Temperature: -20º to 70º C
Limited Warranty: 2 Year
What's in the box
WiFi Ceiling Speaker
Power Supply
Cutting template
Instruction manual
5m Speaker cable